Sunday, August 19, 2018
Thirteenth Sunday After Pentecost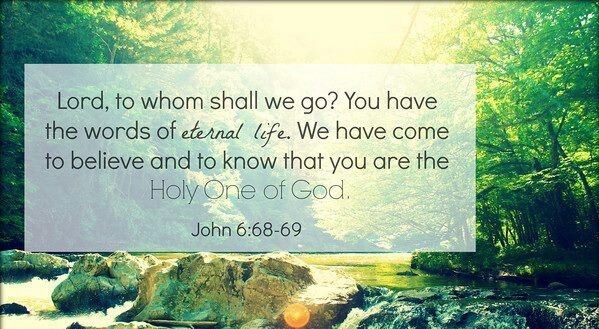 St. Paul Lutheran Church
107 Tustin Road
Fremont, WI 54940
Church Office: (920) 446-3251
email – stpaulfremont@centurytel.net
Pastor Stephen Pope Home: (920) 993-9241
Welcome to St. Paul's Lutheran of Fremont, WI. To our visitors we are glad you have gathered together with us in the name of the Triune God, Father, Son and Holy Ghost, on this day of rest and refreshment in His Word. Please take a moment to sign our guest register and pick up one of our burgundy colored "Welcome Home" folders. Please come and worship with us again.
AS WE GATHER
We are an audiovisual culture. Everywhere you turn, people use a wide variety of means to get your attention: billboards along the highway, commercials on the radio, pop-up advertisements on social media, telephone surveys that interrupt your family dinner. The list could go on and on. Jesus, too, used a variety of means at His disposal in the first century to communicate His message of life and salvation. He Himself is the greatest communication in any time and place—the very Word made flesh. Christ gives words that are spirit and life. He speaks. We listen. Christ also does the saving work of removing darkness by His death and resurrection. He shines. We see and live. Talk about an audiovisual Savior! Today, let us listen, touch, taste, and see. As we respond to God's grace with psalms, hymns, and spiritual songs, let us lift up thankful hearts to our Father in the name of Jesus.
Scripture Readings
Old Testament Proverbs 9:1–10 (Wisdom is seen and heard.)
Epistle Ephesians 5:6–21 (We walk as children of light.)
Holy Gospel John 6:51–69 (Jesus speaks words of spirit and life.)
7:45 Hymns – 704, 697, 637, 696, 810 vs.1,4
Serving The Lord
**Ushers & Greeters are reminded to please wear your name tags.
August 19 & 26
Greeters 1st – Butch & Sally Owen 2nd – Kevin & Barb Miller
Ushers 1st – Glenn Pomrening, Darnell Burow, Pat Kons, Kyle Kons
2nd – Kevin Miller, Seth Miller, Bill & Candace Mitchell
Acolytes
August 19 1st – Ian Liebel 2nd- Madison Hansen
August 26 1st – Kahli Weisshahn 2nd- Reilly Claassen
This Week at St. Paul's:
Tuesday – 6:00PM Trustees Meeting
– 6:30PM Church Council Meeting
Wednesday – 10:30AM Bible Study
St. Paul Cemetery Ice-Cream Benefit Today – Today, Sunday, August 19, 2018 an Ice Cream Social will be held to benefit The St. Paul Cemetery Fund. This will be a freewill donation event that will help with the lawn mowing, general maintenance, and improvements of our congregation's cemetery. The congregation's cemetery is located on north County Road H off of Highway 96 (east of church) by the big bend on County Road H directly across from Pine Grove Resort. Even if you don't want ice-cream your gifts and donations are greatly appreciated. This event is being sponsored by Thrivent Action Teams.
Concordia Bible Sale – Once again Concordia Publishing House is having their annual Bible Sale. It starts in August and runs through September 30, 2018. New this year is The Creative Bible in the ESV that has room in the margins for notes and devotional thoughts. Also a Bible Just For Early Readers (ESV). This is a Bible geared for reader's elementary/middle school years. Excellent also for parents to use with children for family devotions. Please see the insert in today's bulletin for more information. For more Bible selections on sale through Concordia; go online to www.cph.org/biblesale.
Sunday School Registration – Sunday School at St. Paul is just around the corner (September 9, 2018). We need our parents of our Sunday School students to fill out registration forms for the 2018-2019 year. Why? With the rising cost of publishing the Sunday School materials from Concordia Publishing House we want to be cost effective with the resources that we have. Having excess materials isn't good stewardship. Also the registration card provides contact information in case there is an emergency. We ask that all parents take a moment to go to the website: www.stpaulfremont.org and open the Sunday School tab which will open to the registration form. The form is a fillable form so you can type in the information, print it off and either bring it along to church.
Tent Raffle - In conjunction with Oktoberfest, the Raise The Tent Raffle is also underway! This year we are going to have 1000 tickets for sale. This helps with the yearly startup costs associated with Oktoberfest. We will need congregation members to be willing to sell these tickets. Please talk with Doug Ehrenberg if you would be willing to sell tickets. Tickets can be purchased at the Scrip desk on Sunday mornings or else at the church office.
Your Help Is Needed - The Sunday School Program can use willing hearts and hands. You don't have to have children in elementary school, just a willingness to share the faith! Being a Sunday School teacher or substitute is not hard or difficult. Three things to keep in mind:
Quarterly meetings are held where Sunday School lessons and materials are presented. Pastor is there to answer your questions. Also the Concordia Series for our Sunday School provides a wealth of materials that can be used in presenting the lesson. In addition, we are flexible. It's very easy to use!
Team teaching is a way in which you can teach without a commitment to every Sunday. Substitute teaching works the same as at school.
If regular Sunday School teachers find themselves with a Sunday commitment, substitute teachers are called upon.
If you could help either as a teacher or substitute, please contact Pastor Pope. Blessings await as you open ears and hearts to the message of God's love in Christ!
September Events – Just a few reminders of what is coming next month:
The Fall Schedule begins on Sunday

, September 9, 2018 with services at 7:45 & 10:30AM; with Sunday School at 9:15AM and Sunday Morning Bible Class at 9:30AM.
Membership Data Review Begins

:

Sunday, September 16th and concludes on Sunday, October 7th. We are asking our all members to update their information following services so that we can enter it into the new church software program. This gives everyone in the congregation four Sundays to choose from. We are hoping for everyone's help and co-operation in getting this job done!